BoardingJapanThe famous hot spring city Beppu City, the mountains gradually rise continuously white smoke, no city life in the bustle around, looked up, quietly immersed in a silent spring sea. Beppu is located in southwest Japan Kyushu, Oita Prefecture, east of the vast Beppu Bay, West built ASO National Park Tsurumi mountains, is a mountain surrounded by hot spring resort.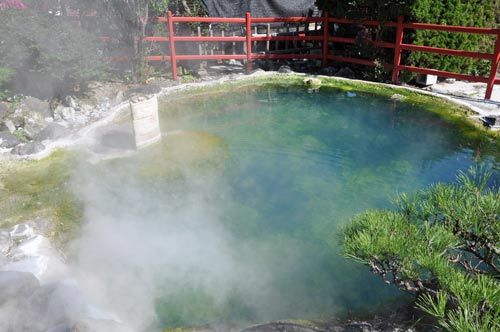 Beginning in Beppu hot spring
Beginning in Beppu who, impressed steamy scene. At first glance, easy to think the smoke from factory chimneys, in fact, the smoke from all over town spring house.
Japanese hot springs, not crude and careless bubble up, many of them concern. Small to bathing appliances, spa modeling, to the surrounding scenery, will become important to enjoy the hot springs. Therefore, to the static under heart can really feel the essence of Japanese bathing culture.
Beppu hot spring area is numerous, basically a hell of the head, of which the most famous is Beppu Naraka hot springs, respectively: Blood pond hell, white pond hell, hell, hell ghost sea tornado, hell, hell, Shihfang main mountain range in hell and the Devil Hill of hell.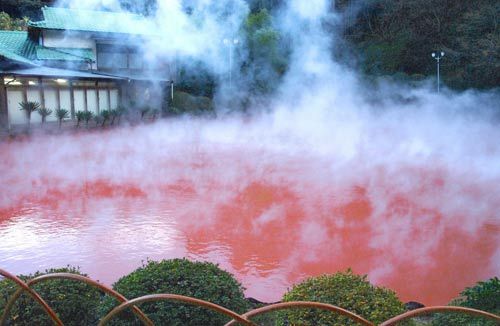 The pool of blood hot springs
The pool of blood hot springs water temperature of 78 degrees, is Beppu well-known "hell" (Japanese jigoku, refers to the hot springs at the bottom of the hell). "Red hot spring" and recorded in the "Feng Fengtu Ji", is Japan's oldest natural hell, in early eighth Century to "red hot spring". The spectacular sight makes people come to appreciate, forget here is bathing places.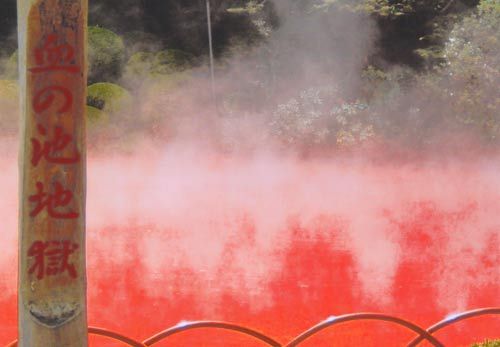 Blood pond hell
From the picture is not difficult to find it strange places, that is suffused with blood red springs, like imagination in hell, and this red from water contains all elements of iron. It is rich in iron oxides, like a pool of tumbling plasma, with a huge roar, by the Japanese Buddhist thought to come from the rapids in hell. The blood pool ointment made blood pond hell hot red clay can cure beriberi, is very popular in japan.